The Cost of Greed: When Genius Failed Review
In the early 1990s, Wall Street was recovering from a giant treasury bond scandal at Solomon Brothers. John Meriwether, a former Solomon trader, set out to create one of the largest and most exclusive hedge funds the world had ever seen. Using mathematical arbitrage strategies, he had developed over the years, Meriwether became one of the most successful bond traders on Wall Street.
The Genius Assembly
In setting up his fund – dubbed Long Term Capital Management – Meriwether recruited colleagues from his days at Solomon. Many held prestigious PHDs, and Meriwether even recruited professors from MIT's most advanced programs. The fund's thesis was simple. With the use of complex mathematical models, Long-Term could take advantage of thousands of daily price discrepancies and beat the market by miles.
The group's reputation for being analytical geniuses allowed them to raise money from Wall Street's largest banks and some of the world's wealthiest individuals in what was the biggest hedge fund startup of all time. Within their first year Long-Term had raised $1.25 billion from the Bank of Taiwan, the Bank of Italy, and even private investors such as Phil Knight, the founder of Nike.

Formative Years
The fund's first years of operation did not disappoint. In 1994, the fund appreciated by 28%, and in 1995 they produced an even more impressive 59% gain, far exceeding the returns of any other fund at the time. The primary factor in the fund's performance was not so much the mathematical models used by the fund but rather their excessive use of leverage.
Because the arbitrage strategies involved taking advantage of small discrepancies in bond spreads the fund had to use an increasing amount of leverage to earn such high returns. By 1996, two years after the start of the fund, Long-Term was leveraged over 30 to 1.
Nonetheless, the fund consistently outperformed form 1994-1997 leading the members of the fund to be convinced they were invincible. The increasing capital and the continuous outperformance pushed the traders beyond the boundaries of bond arbitrage that had served them so well in the past and soon began trading in junk bond and equity arbitrage through the use of complex derivatives.
Because of SEC regulations, a hedge fund can only have so much leverage when trading in equities. To get around this rule, the fund would use leverage to purchase derivatives directly tied to the value of a stock without actually owning any stock certificates (a practice that many funds continue to use today).
As happens too often, the unending success of Long-Terms traders made them blind to the hubris that was starting to take over their fund.

Downfall
In 1998, the fund began to make increasingly risky bets such as buying put options on tech companies such as Microsoft and Dell, as well as bets on Russian bonds. One of Long-Term's traders, Larry Hilibrand, even shorted Berkshire Hathaway thinking it was over-valued. The year proceeded with a series of unpredictable events causing panic throughout the financial markets.
Rumors of Russia defaulting, compounded with an announcement from President Clinton about his affair with Monica Lewinsky, caused investors to pile into treasury bonds and abandon their positions in Russian debt, driving markets down severely.
The combination of all these events caused Long-Term's capital to fall dramatically in the latter part of 1998, and by late August the fund was down 84% from the beginning of the year.
The fall in the fund's capital caused panic to spread throughout the fund's members, who in turn attempted to withdraw their money. Additionally, Wall Street banks, to whom Long-Term still owed billions, were calling for payments which the fund could barely make.
In order to meet capital calls, Long-Term began reaching out to outside investors asking for funding. After numerous rejections, they resorted to calling George Soros and even Warren Buffett asking if they were interested in investing.
Deal after deal fell through until the day came when only one institution in the world would bail them out: The Fed. Because so many banks on Wall Street were tied to Long-Term through either leverage or derivative contracts, the Fed felt that they had no other choice but to bail out the fund.

The Cost of Greed
By the end of 1998 almost all the investors of Long-Term Capital Management had their investments wiped out and the fund's employees were all out of a job. The easy money that comes too often on Wall Street caused the fund to get overwhelmed by their success and push themselves into positions that over time could only lead to downfall.
Time and again speculative behavior on Wall Street has brought down some of the world's largest institutions. From the fall of Long-Term Capital Management in 1998 to the bankruptcy of Lehman Brothers 10 years later, the greed of speculators repeats itself. Interestingly, both of these firms turned to Warren Buffett's Berkshire Hathaway during the wake of their downfall.
The Lesson
Perhaps the greatest lesson to learn is that the value investing approach is immune to speculation and overtime speculators will always be turning to true investors to save them. The virtues of patience and rationality that are central to successful investing continue to be proven true with every Wall Street collapse.
Roger Lowenstein has time and again proven his superior ability to recount Wall Street's most tumultuous events. When Genius Failed shows us the hubris and greed that overtook some of the world's most intelligent people, which included MIT PHDs and Nobel Prize winners.
We see first-hand through Lowenstein's writing how these hyper intellects went from running one of the world largest investment funds to scrambling for jobs and trying to avoid bankruptcy. When Genius Failed teaches us one of the most important laws of investing: no amount of intelligence can protect oneself from the emotions and greed frequently found on Wall Street.
---
Author Bio: William Douthat is the managing partner of Olympus Wealth Management, a Tulsa based investment fund. He's been a licensed investment advisor since 2018 and has a bachelors in finance from the University of Oklahoma. 
Read more great articles at Vintage Value Investing.
—————-
By: Guest Contributor
Title: The Cost of Greed: When Genius Failed Review
Sourced From: www.vintagevalueinvesting.com/the-cost-of-greed-when-genius-failed-review/?utm_source=rss&utm_medium=rss&utm_campaign=the-cost-of-greed-when-genius-failed-review
Published Date: Sat, 01 Aug 2020 07:39:12 +0000
Did you miss our previous article…
https://getinvestmentadvise.com/investment-advice/how-the-cannabis-industry-is-helping-job-loss-in-the-u-s/
The Ins and Outs of Covid's Impact On Marijuana Stocks
How The Pandemic Has Shaped The Present Day In The Cannabis Industry
In just a few short months, the entire world was flipped on its head by the Covid-19 pandemic. While most markets had been adversely affected, marijuana stocks managed to escape with more than it came in with. For that reason, the past few months in the cannabis industry have actually been quite good for pot stocks. But, there are some ways in which this pandemic has affected marijuana stocks, that may not be as obvious. Of course, we all know that the demand for marijuana has shot up in the past few months. But, we haven't fully discussed the other ways in which the Coronavirus has had a role in the cannabis industry.
[Read More]
It's worth mentioning that it is extremely hard to identify anything concrete at this point in time. The pandemic is an ever-changing situation that continues to affect pot stocks and the cannabis industry in a big way. Although we more or less know what could happen in the next few months, the specifics arguably remain a mystery. For this reason, it is worth examining how the cannabis industry and marijuana stocks have been affected to this point, to see what may happen in the near future.
Pre March 2020 Was a Rough Period for Marijuana Stocks
Prior to March of this year, we saw major losses with many of the most popular pot stocks to watch. This includes the giants like Canopy Growth Corp. (NYSE:CGC), which shed a decent amount of value in only a short period of time. In addition to pot stock losses, a lot of companies found themselves in a tough position financially. Because of this, a lot of mergers and acquisitions that were supposed to occur, did not end up happening. Although this in itself is not an indicator of anything too bad, it has halted progress in the cannabis industry.
Mergers and acquisitions have become extremely popular amongst leading marijuana stocks. And with that, we have seen some companies become behemoths in their respective industries. Without this, it means that an avenue of growth may have been closed off for some time. But, it does seem as though we are in a better place currently in the cannabis industry. This means that there may be more options for marijuana stocks to have mergers and acquisitions in the near future.
Pot Stock Supply Chains Have Been Rocked
When we look at products producing cannabis companies, we see that a lot of these products are coming from China. One of the main product producers in the cannabis industry, KushCo Holdings Inc. (OTC:KSHB), has reported that there are massive halts in the time it takes to get products from China. This is understandable considering the current state of the pandemic, but regardless it does have a large effect on the cannabis industry.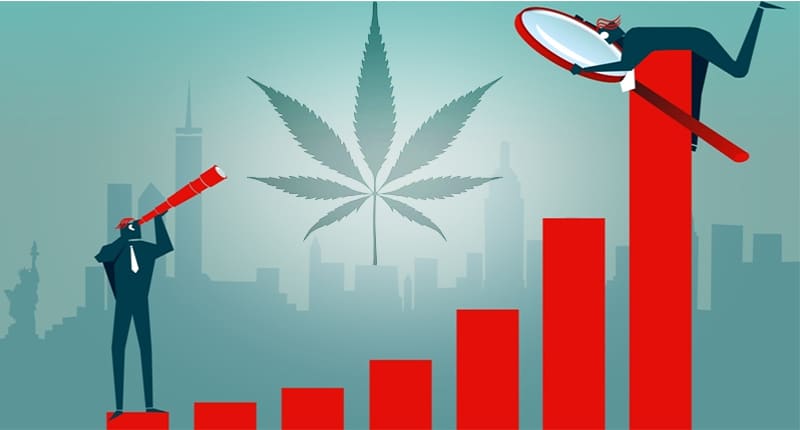 Many believe that soon, the supply chain could once again regain its efficiency, but this may be a ways away. For now, all we can do is wait for factories to reopen, allowing product producing cannabis companies to once again, make a living. With all of this in motion, it appears as though we may see some bright times ahead for pot stocks and the cannabis industry at large.
The post The Ins and Outs of Covid's Impact On Marijuana Stocks appeared first on Marijuana Stocks | Cannabis Investments and News. Roots of a Budding Industry.™.
—————-
By: J. Samuel
Title: The Ins and Outs of Covid's Impact On Marijuana Stocks
Sourced From: marijuanastocks.com/the-ins-and-outs-of-covids-impact-on-marijuana-stocks/
Published Date: Wed, 05 Aug 2020 19:15:35 +0000
US Stock Market More Extreme Than In March
Just because the S&P 500 has regained almost all of its bear market losses and COVID-19 cases are starting to fall doesn't mean we aren't living in unprecedented times. There are some aspects of the current market that are even more extreme than this March. The most amazing situation in markets might be that the 10 year yield is at about 50 basis points which is near a record low in history, while the Fed is embarking on the most extreme path towards boosting inflation ever. If the Fed is successful, rates will spike. It's amazing how much confidence stock traders have in the Fed to support equity prices and how little confidence bond holders have in the Fed to boost inflation and growth.
Last week, Powell stated the Fed will end its 1 year examination of policy communication and implementation "in the near future." The Fed is still looking over the mistake it made to raise rates and shrink the balance sheet. The Fed would have been releasing its findings and updating policy anyway. With inflation lower than when it started this journey, it's hard to overestimate the lengths the Fed will go to, to boost inflation. Powell stated the policy statement which should come in the next few weeks, will be "really codifying the way we're already acting with our policies. To a large extent, we're already doing the things that are in there." This is enhanced forward guidance.
The Fed could specify the exact inflation rate it would need to see before raising rates. Evans of the Chicago Fed talked about not raising rates until inflation hits 2.5%. The bond market doesn't believe the Fed. You can argue it's completely unrealistic to even mention 2.5% inflation because of how far away the economy is from that. You can think of this like an unprofitable company saying it won't issue new shares until it reaches an unrealistic goal on margins. It can be a critical mistake for the Fed to be so dovish if all the policy does is raise stock prices. That would create an even worse problem without generating higher inflation. As we mentioned, the stock market is confident in the Fed and the bond market isn't. If they are both correct, this policy will only lead to trouble.
Are Stocks Cheap?
Lower rates lead to higher stock prices, but at a certain point the situation gets out of control. Investors won't use current rates to value stocks unless they think they are here to stay. As you can see from the chart below, the equity risk premium is quite high because of how low rates are which makes stocks attractive. If the Fed does whatever it takes to convince people low rates are here to stay, it encourages stock speculation. That does nothing to increase inflation. We just had one of the longest bull markets in history while inflation was low. In other words, if the Fed fails to boost inflation like it has in recent history, we will have a more perverse version of the last cycle. If the Fed is successful at generating inflation, it could cause stocks to crash because then they will be expensive. It would be a disaster for Americans to have their bond and stock portfolios lose value simultaneously.
The Winning Formula
We've spent a lot of time on what could go wrong. Let's look at the positive side. It's possible this latest policy clarification increases inflation modestly. That might only cause a small decline in growth stocks. It depends on how overvalued you think they are. If the fiscal stimulus and the decline in COVID-19 cases help create a cyclical recovery, we could see a sector rotation into these value stocks without a market implosion. Steady low inflation in a growing economy is better than near zero inflation in a recession.
Now Stocks Matter
Many people have criticized the Fed for caring too much about the stock market. Now, the stock market matters more than ever because of how many retail investors are involved. According to Citadel Securities, retail investors account for 20% to 25% of stock market trading which is up from the historical range of 10%. The problem with supporting the stock market is it becomes so big that you have to support it. The S&P 500 is too big to fail.
The chart above shows the huge spike in retail trading activity on Robinhood that began in March 2020. Bullish investors are so focused on the economic recovery, they are missing this classic sign of a market top. The stock market isn't supposed to top after a recession. However, the conventional wisdom also said we needed to see a retest of the March lows, which never happened. This has been a year like no other. Surely at a time when there is intense retail speculation and high concentration you can see how this looks more like a late cycle rally than an early cycle one.
Extreme Concentration
The market is extremely concentrated in a few mega cap tech stocks. There are price targets that put Apple ($480) and Amazon ($4,200) with the same market cap as the Russell 2000 (if it stays where it is now). As you can see from the chart below, the top 6 S&P 500 companies (the FAAMNGs) now have a higher market cap than all Canadian and European stocks. This is a great viewpoint; GDP only has a tangential relation to market cap. The net difference between all European and Canadian stocks and the top 6 American stocks has fallen by over $2 trillion since February.
Conclusion
The Fed is about to embark on a more extreme monetary policy by codifying when it will hike rates. Some will say these inflation suggestions of 2.5% are so far outside where inflation has been in the past decade that the Fed is essentially saying it will never hike rates. That's what investors need to hear to value stocks based on current rates. The Fed doesn't want to disrupt the stock market. That could create negative consequences. The problem is the more important the stock market gets, the worse a correction would be for the everyday person. Unfortunately, the masses tend to get involved in the stock market at the exact wrong time historically, causing more damage to the economy than there ordinarily would be.
The post US Stock Market More Extreme Than In March appeared first on UPFINA.
Read more awesome articles like this one on VintageValueInvesting.com!
Read more great articles at Vintage Value Investing.
—————-
By: UPFINA
Title: US Stock Market More Extreme Than In March
Sourced From: www.vintagevalueinvesting.com/us-stock-market-more-extreme-than-in-march/?utm_source=rss&utm_medium=rss&utm_campaign=us-stock-market-more-extreme-than-in-march
Published Date: Wed, 05 Aug 2020 20:21:16 +0000
Unusual Variable For Labor Market Recovery
Unless you have children and are dealing with the economic ramifications of COVID-19, you might not realize its importance. As you can see from the chart on the left, caring for children not in school or at daycare was the 3rd most common reason people weren't at work from May to July. It's no surprise, given the uniqueness of this situation, that the share of people not working due to child care more than tripled (to almost 2%) from where it was before this pandemic.
Children are the least impacted by this virus, but they can spread it. NYC plans to reopen schools if its positive rate stays below 3% (NY is currently near 1%). It's extremely difficult to have a child and work from home. The ones who have it the toughest are single parents and parents of young children. It's also impossible to work from home if you don't have a job that's capable of that. It's estimated that 15% of the labor force, which is 24 million people, are in 2 of the 3 situations that prevent them from working from home.
Low Educated Hurt The Most
As we described in articles in 2019 and early 2020, the labor market was fantastic for low income low education workers. They are hurt the hardest by recessions, but see great gains when the labor market is full. It's back to square one for these workers as it will take at least a few quarters, if not years, to get back to how it was in 2019. In the meantime, there will be high unemployment. The consensus estimate is for 1.75 million jobs created in July (down from 4.8 million in June) which would bring the unemployment rate down 0.6% to 10.5%. We know the labor market weakened in July (rate of improvement fell) and that there were fewer people who could get back to work (easy fruit already picked). Plus, there were additional economic restrictions in the COVID-19 hotspots in the south and west.
The highly educated were the least impacted by this virus which is why the extra $600 per week from unemployment benefits was so critical. Congress is trying to pass another stimulus by August 7th which is when it's scheduled to go on recess. If there's something close to being done, they will push back the recess. The stock market is completely ignoring this. The logic is that the economy is so bad, Congress has no choice but to act. Secondly, the big tech stocks that are carrying the market will be insulated from any potential slowdown.
Specifically, in June, of those with an advanced college degree, 63.3% worked from home. 48% of people with a Bachelor's degree worked from home. People who have a college degree or more are likely to work with computers at their job anyway, so working remotely isn't an issue. On the other hand, 12.6% of those with a high school degree and 4.8% those who didn't finish high school worked from home. Retail jobs for example can't be done from home.
Weird Recession: The Negatives
This is a unique recession, where certain aspects of the economy were hurt more than normally and others were spared. On the negative side, the number of active small businesses fell 2.2 million from February to May. If these small firms don't come back, either a new business will be created or the mega corps of the 2020s will eat up the new demand. The latter would only accelerate the recent trend towards monopolies. 83% of NYC restaurants and bars can't pay their full rent. That's because of the regulations on indoor dining even though the COVID-19 positive rate in NY has been near 1% for the past couple weeks. To make matters worse, 71% of landlords wouldn't waive part of the rent, 61% wouldn't defer payments, and 90% didn't renegotiate leases.
The rule for taking PPP loans that become grants is that at least 60% of the money needs to go to paying employees. That doesn't mean some of these firms receiving money don't plan on laying off workers anyway. Between $291.6 million and $647.5 million in loans were given out to the over 150 companies that plan to layoff workers. From May 1st to July 17th, they had plans to cut 15,814 jobs. The chart above shows the type of layoffs. 44% were permanent or the business closed.
In total, 4.9 million PPP loans were given out. That's $521.1 billion. Congress might add more money to the program which could help a lot as many firms have already spent the money. The best catalyst would be for the restrictions to be lowered and COVID-19 cases to fall. We've seen cases fall recently as it appears the worst of the 2nd wave is over. That's critical to getting children back to school. Remember, the back to school shopping season is the 2nd most important shopping holiday season of the year.
Consumers Saving & Investing
Even with all these negatives, more people are buying cars, RVs, and boats as social distancing vacations have become common. In July, auto sales increased 11.1% from June to 14.52 million. There is literally a shortage of used cars because demand is so high. As you can see from the chart below, this was a rare recession in which credit card delinquencies fell as credit card debt itself also fell. Consumers are also investing more which could be a problem for the stock market like the late 1990s. Interactive Brokers had 913,000 new accounts created this year as of the end of July which was a 40% increase from last year. Robinhood peaked at 16th in the App Store on June 8th which was an intermediate term peak in the market. It's currently the 89th most downloaded app.
Conclusion
Whether or not kids can go back to school will be huge in determining where the labor market is headed. If they go back to school, the unemployment rate might drop quickly. The higher the education someone has, the more likely they can work from home. Millions of small businesses have closed and NYC restaurants are struggling. Congress is expected to pass a stimulus this week. The market has literally no doubt about one passing. Credit card debt is falling and people are spending more on social distancing activities. They are also investing more which could create a boom & bust in the stock market.
The post Unusual Variable For Labor Market Recovery appeared first on UPFINA.
Read more awesome articles like this one on VintageValueInvesting.com!
Read more great articles at Vintage Value Investing.
—————-
By: UPFINA
Title: Unusual Variable For Labor Market Recovery
Sourced From: www.vintagevalueinvesting.com/unusual-variable-for-labor-market-recovery/?utm_source=rss&utm_medium=rss&utm_campaign=unusual-variable-for-labor-market-recovery
Published Date: Tue, 04 Aug 2020 20:33:13 +0000
Did you miss our previous article…
https://getinvestmentadvise.com/investment-advice/roth-ira-early-withdrawals-when-to-withdraw-potential-penalties/